BANNED
Posts: 817
Joined: Fri Sep 21, 2007 8:15 pm
Love the cardboard wall paper adds a nice homely feeling
Nice collection of Ducs as well
What is the swingarm off on the Mille ?
Did you do the work or is that how you got her?
Hope you dont mind I posted your pictures for you
My old shed (note the walls - I should have taken them with me...)
The ex-Saftune Pantah headed mille in its Daspa frame, with 1979 NCR bodywork. Last bevel made by Ducati.
My daughter Sally in 2008 on our 1,200 k ride through the Snowy mountains. I've owned this since new when I bought myself a 21st present in 1982. Last kick start MHR.
Bought & rebuilt from a basket case in 2003 for my wife, Diane. But I ride it. Last SS with a cross over shaft? To tenuous? Ok, but it will have to do for my link.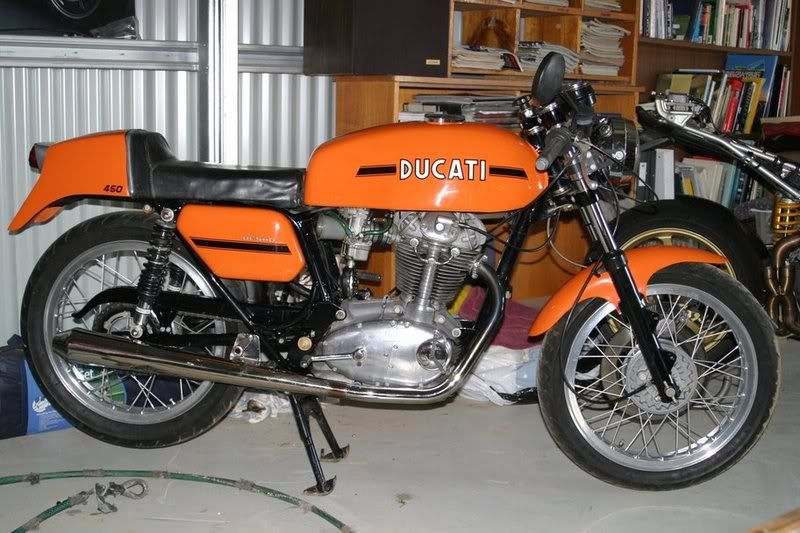 I've had this since I was a 19 y.o. in 1980, and it was my first Ducati. The last single cylinder bike they made (not counting the Supermono).
2002 748R bought new and massaged to get 120.5 rwhp. Last 748 made before 749 et al.
Thanks for posting the pictures, I'm better with bikes than computers.

The frame is a Daspa that Saftune (a Ducati tuning shop in Sydney) raced in the late 80's with the Mille engine that has Pantah heads converted to bevel drive grafted onto it - giving the 60 degree angle of the race bikes in a bigger capacity.

It raced at Oran Park in '88 at the first Wolrd Supers event (believe it or not!).

I raced it for a short time in the early '90s for the shop, and then bought the frame and engine from the estate of Mike Saffel (the owner) when he passed away in 1995.

It's got to be one of the fastest revving Mille's around, and it makes good horsepower (though it's never been dynoed) and it weighs 161 kgs without fuel.

The forks are Marzocchi from a Bimota Dieci, and the brakes, wheels and swing arm are from an '89 model Suzuki RGV. The exhaust pipe is a one-off Staintune, and the body work is a genuine fairing, and replica tank and seat made locally.

I don't have the time or inclination to race it at the moment, but a mate is going to take it out this year to give it a run, and hopefully not damage it. I'll get onto it in a year or so when the kids are older.
Regards
Stephen
One more thing - the walls are the plywood crates that Ducati used in the early part of this century.

The local shop would give me about 10 crates for a case of beer, so I lined the walls, ceilings, benches etc; and then sold the house leaving them behind.

I still have one left to put up in my new bigger shed, but it's not the same......
Stephen