Took the GT to the dyno today to do a little carb tweaking.
First runs were looking at what main jet size would produce the most power. Started with 750 Sport stock - 125. Went to 130's and saw a drop, so installed 122's and also saw a drop. Tried 128's, but ended up back at 125's.
Next fussed with the pilot jets and ended up with 62's. I had noticed a stumble off idle that felt like leanness and Dave the dyno operator felt it sounded lean there as well. Removed the 70/2 slides installed & replaced with a pair of 60/3 early-type slides I had kicking around from some Guzzi I guess. A bit worn, but serviceable. Left the K5 needle in the middle notch. Fired up and saw a bit difference - much cleaner transition.
Dave felt, looking at the gas numbers that it might be worth trying a needle with the same tip diameter, but a little smaller (richer) shaft. I'll look to see if there is such a thing amongst dellorto needles. For the moment though, it looks pretty good, nice flat torque curve, smooth transition and steady, even idle. Tomorrow I'll have a chance to rde it a bit and see what sort of ridefeel it's got. If it feels good, I'll leave it be. I've seen on Guzzis that after leaving the dyno with near perfect numbers it still takes a little fiddling to get it feeling good, even though that produces some gas numbers that are not perfect.
So -
PHF 32
PJ: 62
Slide: 60/3
Needle: K5 (middle notch)
NJ: 265AB
MJ: 125
Using Chevron 94 (no ethanol)
Also, re: the HP numbers. The dyno used is a "brake type" or eddy current type. Much preferred to the Dynajet accelerated drum type. It's peak HP figures are (so Dave tells me) about 10-15% lower than the Dynajet. Not that it matters much, since we're looking for changes in the values given different jetting indicated on this equipment, not a comparison to others, or of values from magazine tests, etc.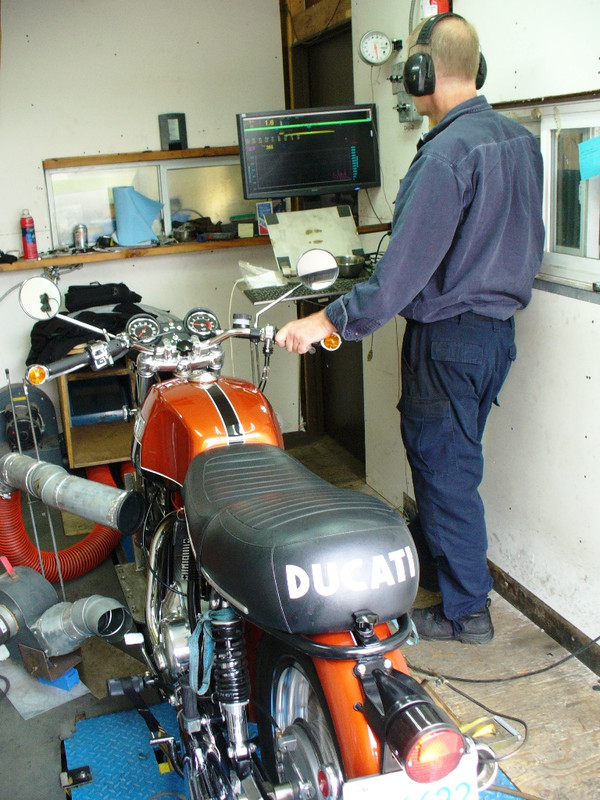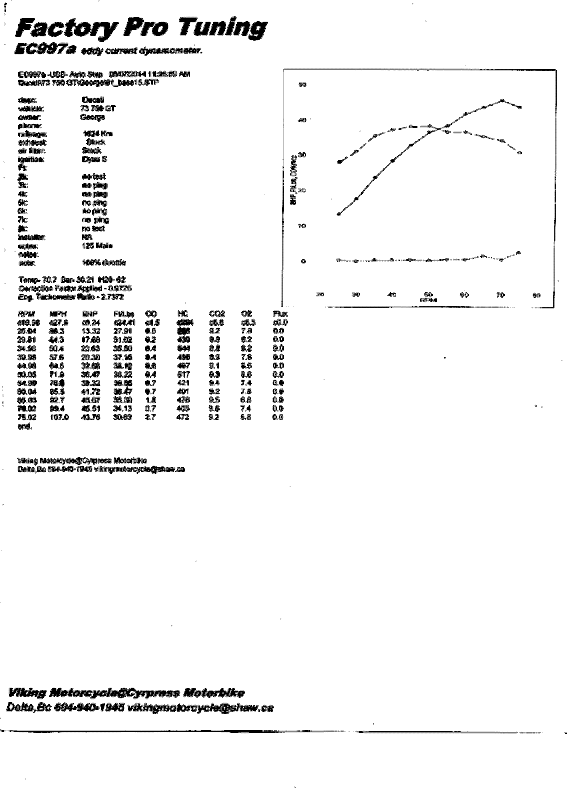 _____________________________________________________________________________________________________________________________
Update - Sunday 07/06:
Took it out for a ride and oddly, or maybe not, even though it seemed to have a cleaner take-up from just off idle with the 60/3 slide on the dyno, when actually riding it, it's s bit blubbery like too rich ........... damn. It was better with the 70/2 slides. Looks like I'll be changing back to those and maybe play with pilot jets to see if I can get the take-up smoother. Or maybe it's going to be a little quirk to just live with.