That's why they call it a shake-down, right? Well there are a couple little defugalties that came to light after a few test rides.
Right away I felt pulsing from the front brake lever. Measured the disc run-out at .011", way too much. I found a machinist here that has a proper set-up to grind both disc surfaces at the same time. We'll see. If that doesn't work, then new disc.
Clutch slipping when you give it much throttle above 4500 RPM. The springs are the ones that were in it & measured within spec. It had a Surflex plate kit in it with little apparent wear when I got it and they were retained. The most likely culprate looks to be weak springs. Steve has a new set on the way to me and then we'll see.
Oil leaking from what appeared to be the upper rear cyl. intake valve cover gasket. Lots of playing around, different gasket w/ Permatex non-hardening sealant after gatting perfectly flat. Still leaking. Switch covers with one from the front cyl. Still leaking. A close inspection after a short run and it appears that the may be the dreaded Ducati porous casting demon. If you look at the picture, you can see to the right (outboard) of the round casting boss (picture right, lower), there's a little trench with bits of black stuff. That black stuff is the remnants of sealant that I picked out of there while cleaning up the head (if I recall correctly from 10 months ago). Oil was pooling up in there and draining down to the rear fins and manifold and pooling on the engine case below - ugly.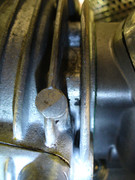 So cleaned and cleaned and cleaned with brake cleaner while hot. Applied green wicking lock tight, let set-up overnight and then apply JB Weld over that. Set up over night and then fingers crossed.