Mounted up the rear brake shoes on the backing plate to turn down for a nice fit into the drum. The linings were a bit thick to make sure there was plenty of meat to remove for the fit. .010" shims were inserted in between the actuator cam and the shoe 'heels' then set up in the lathe. Turned down to where they would just fit inside the drum, removed the shims and presto - about 3/8" of travel on the lever before contact.
The shoes look red since the guy that re-lined them shot them with red primer which I bead blasted off before installing.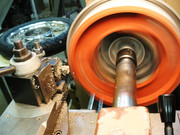 Should work great (tip 'o the hat to BH Steve for suppling the late style axle spacers, re-plated in electroless nickel).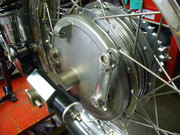 .